Menu Plan and Meal Prep for One
This week I received a really interesting request - assistance to create a menu plan for one, for someone who travels for work. This means:
- few pantry staples, as they would have to be carried from home
- no opportunity to use up leftover vegetables the following week
Aside from being over the moon at it being the first comment on my blog and evidence that someone other than myself has looked at it, I thought it was a great challenge.
I also thought it might be good to share the menu plan on my blog - so others could see.
Ha- the 'others' being me!
I am still at the beginner blog stage, so haven't shared this blog much so far, other than starting to share photos on Instagram. I stopped working on this blog for a long while as I couldn't solve the low light photography problem. In order to share ideas about menu items for this menu plan I want to show things I have actually cooked. So will include photos I don't think are good enough for a blog - everything looks dark and yellow and a bit unappealing.
Menu Plan
Monday l Prawns with ginger, lemon & garlic, Dinner Desperado
Tuesday l Chicken breast panfried with braised brussel sprouts & lemon, dijon mustard dressing
Wednesday l Lamb mince with Middle Eastern spices on flat bread or Prawns panfried with butter and garlic, or roasted with butter and garlic or Salmon with steamed vegetables
Thursday l Poached chicken with broccoli & corn
Friday l Beef stirfry
See here to download a one page 'at a glance' version of the menu plan in PowerPoint.
Below is an explanation of the plan, how to prepare meals each day, and options if they are not what you like.
I'm not sure whether this person is in the northern or southern hemisphere, e.g. whether it is summer or winter - so I've hedged my bets and not gone too summer-y / salad-y but also not assumed it is winter and gone down the comfort food / use the oven path. Roasting is my go-to and preferred method of cooking - sooo easy and sooo delicious - but right now in Sydney there is no way I would put the oven on, it is hot enough as it is.
Assumption
My other assumption is that it is possible to buy individual size quantities of meat and fish, e.g. you are not confined by having to buy a 2 breast pack of chicken fillets. Whilst this means a bit more effort shopping, it also means there is more options for variety in what you eat. However, it is not always possible to access places that sell individual quantities, so the menu plan can be re-worked if need be.
Options
If any of these meals don't appeal, other options that would work with the same basic set of ingredients and mean there weren't a lot of leftovers at the end of the week are below.
"Recipes" and Weekly Meal Prep
Whilst I haven't got around to writing proper recipes for all of the items listed, I do have some photos that show how to cook the items and how to make the week easy by pre-prepping.
Unfortunately many of these are in the bad old days of dark, yellow-y photos. But I have included them, as the purpose of this blog is to spark ideas of what to cook and how existing ingredients and leftovers can be used to make simple, one pan dishes for one - vs be completely prescriptive. Also the actual amounts I often do by sight - e.g. how much chicken or broccoli do I feel like eating!
Monday
Recipe
Extra Prep
Cook extra rice / quinoa or 'fller' of choice for use Tuesday, Thursday, Friday. (Freeze portions if don't feel comfortable keeping it for that long
When washing and prepping broccoli & beans & asparagus prepare extra for Thursday & Friday
Amendments and alternatives to the recipe
Use aspargus instead of frozen peas, so you are not stuck with a whole bag of peas
If don't like coconut milk, could use tinned tomatoes as a base - and instead of Tuesday's meal - use the remaining half of the tin of tomatoes to cook the chicken breast with cumin, ginger & garlic - essentially a pan-based version of this. If you skip the carrots and chickpeas and bring cumin from home, this fits in with the existing menu plan. (I would also add steamed greens - or at least broccoli & spinach)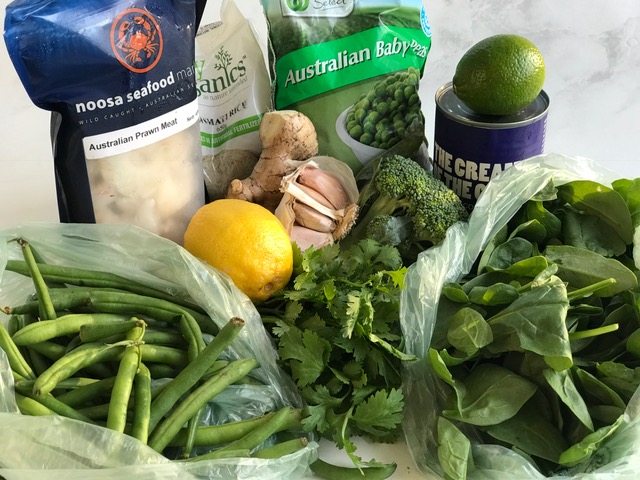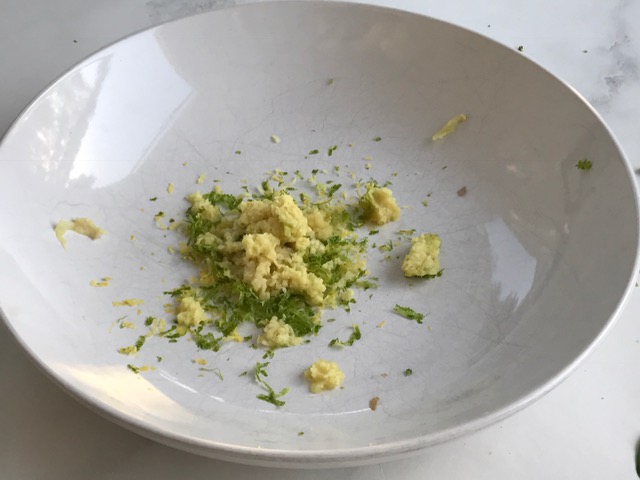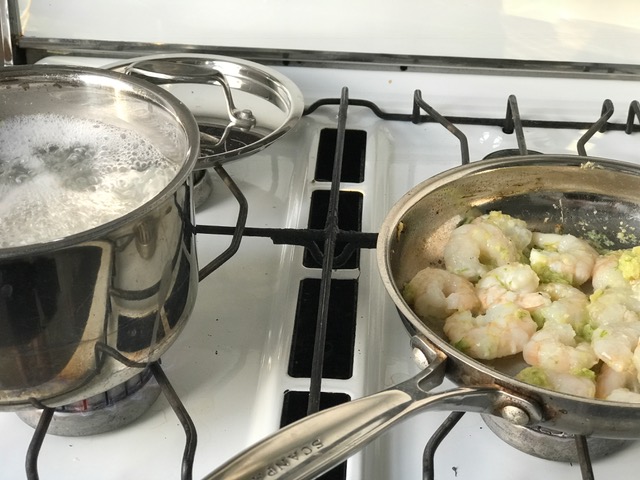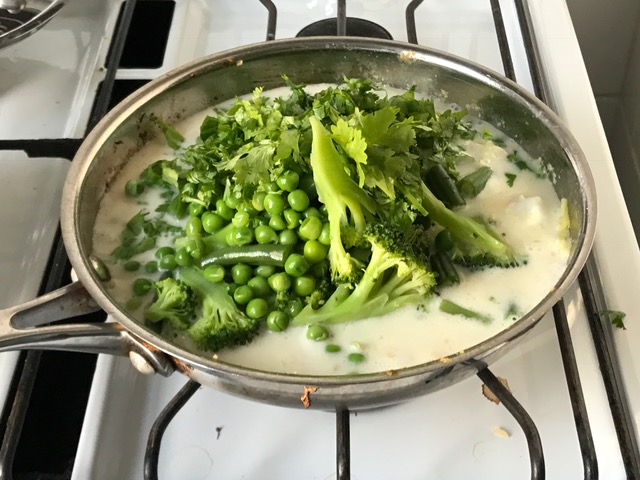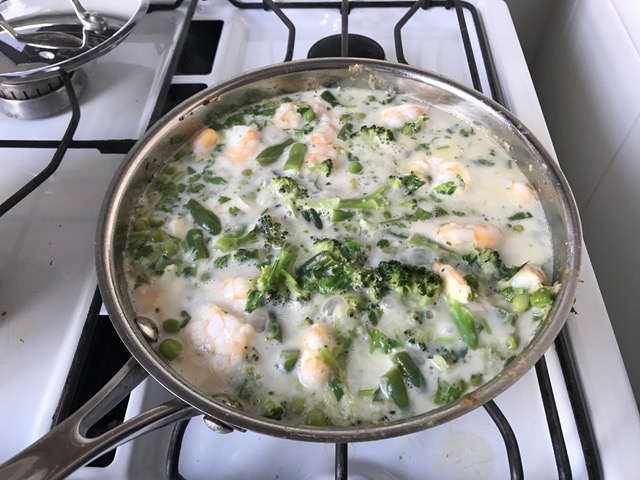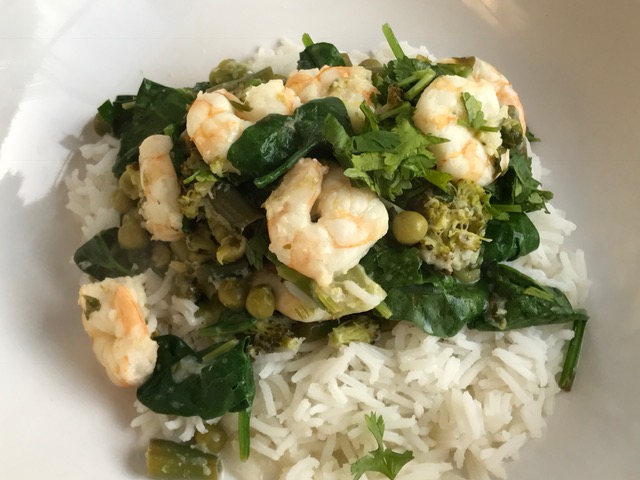 Tuesday
Recipe
Notes
I use butter for cooking the brussel sprouts, but olive oil would also work
Since you have pinenuts on hand for Wednesday's meal they could be added to this
Cabbage could be substituted for brussel sprouts.
Extra Prep
Since you have the chicken out and are standing at the stove, poach extra chicken for use in Thursday night's meal. Either cut one chicken breast in half and use half in each, or a whole chicken breast for each.
To Bring from Home
Small glass jar to make dressing in
Dijon mustard
Wednesday
Recipe
Notes on the recipe
If you don't want to make your own flatbread (VERY understandable) and don't want to end up with a packet of leftover flatbread, would serve this on rice which means skipping the hommous
If want to avoid carbs, I would make some cauliflower rice, e.g. if no food processor on hand, grate or chop the cauliflower. Any extra cauliflower could be added to Friday's stirfry.
To Bring from Home
Pinenuts
Cranberries if can't buy small packet, or swap raisins for cranberries, as can usually buy these in small packets
Thursday
Recipe
Still need to see if I can find a glob about this recipe as I am sure it is there. I have made it as a soup and also a meal.

This is very much a 'meal' and not a recipe per se. e.g. combining foods on hand to make dinner

Key steps are:

Lightly steam broccoli prepared on Monday and beans if desired

Heat rice or quinoa or the 'filler' cooked on Monday and poached chicken

Combine broccoli, rice & chicken and top with avocado
To make it more interesting
Save extra dressing from Tuesday and mix through. I often just squeeze lemon juice over the top.

Note that pictures show that in that instance I used ginger vs any dressing. (I think it was a real health kick meal!) and lime not lemon. I would have added lime zest as well as lime juice.

Toast extra pine nuts on Wednesday and mix through

Add extra greens e.g. asparagus and beans
Friday
Recipe
No real recipe here - it's a very basic stirfy

For flavour I would use the ginger left over from Monday, possibly cumin and lemon and lime juice

In the absence of a wok, I lightly steam the vegetables first; set them aside and pan fry meat with the ginger and garlic and then add all back to the pan, then serve as is or with rice, quinoa or cauliflower rice. I would of course add a ton of spinach through at the end!

A rough example of how I do this can be found at this blog.
Leave a comment to let me know what you think of this menu plan - too complicated - not enough variety - would it work for you?