5 easy meals for one using pulled pork
Super tasty, economical and easy to cook - what's not to love about pulled pork?
My feelings, though recently went from love to grand passion! Here's why.
Pulled pork is so versatile. It is so much more than sliders!
From indulgent pasta with a rich pork ragu to the foundation for a beautiful buddah bowl, to the protein for healthy rice paper rolls, pulled pork can be used in so many different ways.
Intended to spark ideas, the meals below are not recipes - but 'made-up meals' intended to show how to create great dinners based on combining ingredients you have to hand.
To demonstrate that even a motley collection of half used ingredients can end up being a sensational meal for one I've included before and after images.
*Let me know if you would like detailed instructions or recipes for any of the items.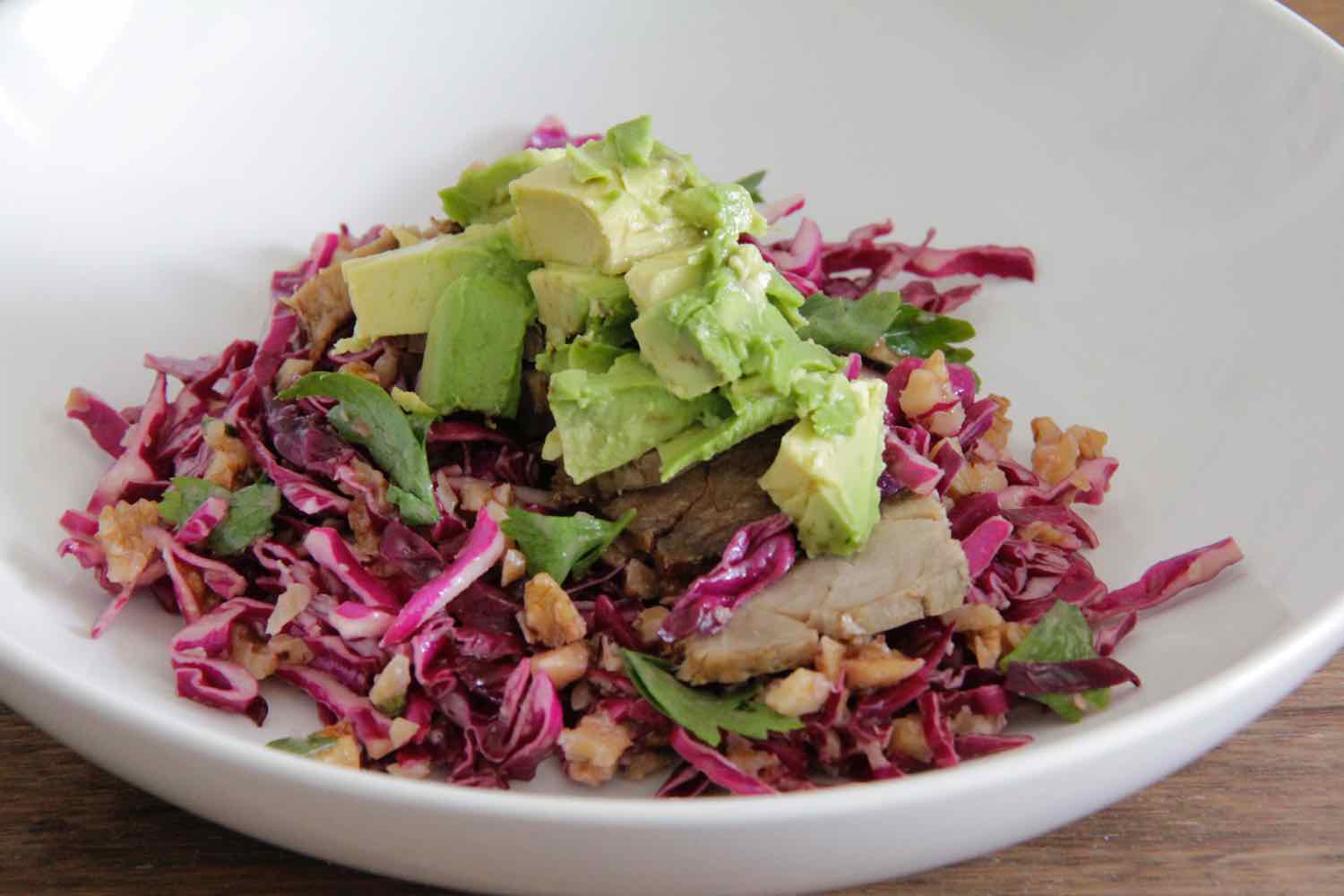 1. Pulled pork on bed of red cabbage salad with walnuts, cilantro, and cranberries
'Warm salad' is really a euphemism for 'whatever can be found at the bottom of the fridge that can be tossed together' and legitimately call 'Dinner'!
It's a great way to use up leftovers.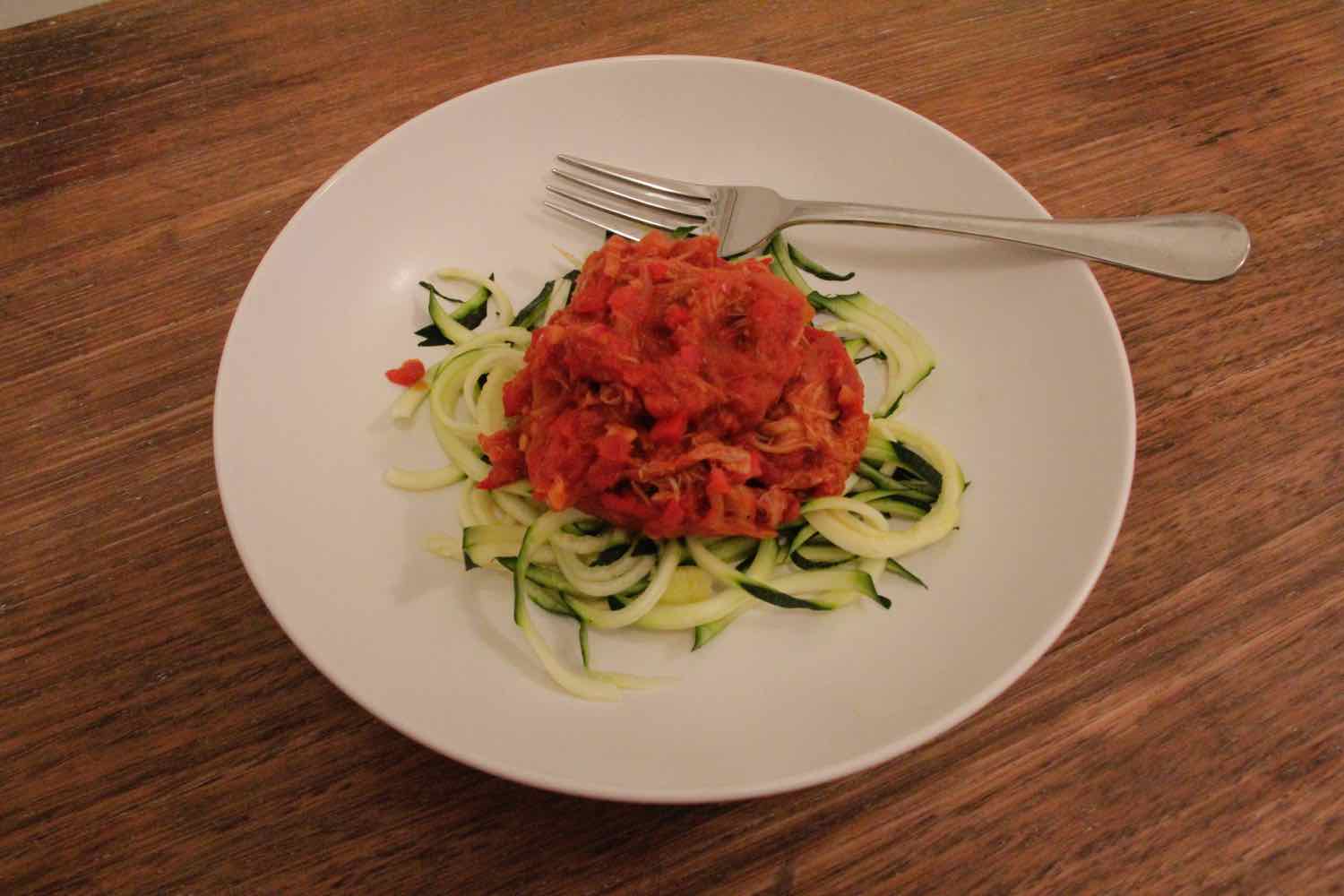 2. Slow cooked pork ragu with salsa and zucchini 'pasta'
These tacos look a little different as I experimented with raw tacos made using linseeds and zucchini. (Part of a long abandoned health kick!) They were delicious, but it would be easy to substitute regular tacos and your favourite Mexican sauce.
4. Rice paper rolls with pulled pork
I'd never made rice paper rolls before this - they seemed 'scary'. So my need to think of new meals using pulled pork was a good thing. I discovered rice paper rolls are actually easy! Also that they are incredibly versatile and great for a simple summer dinner.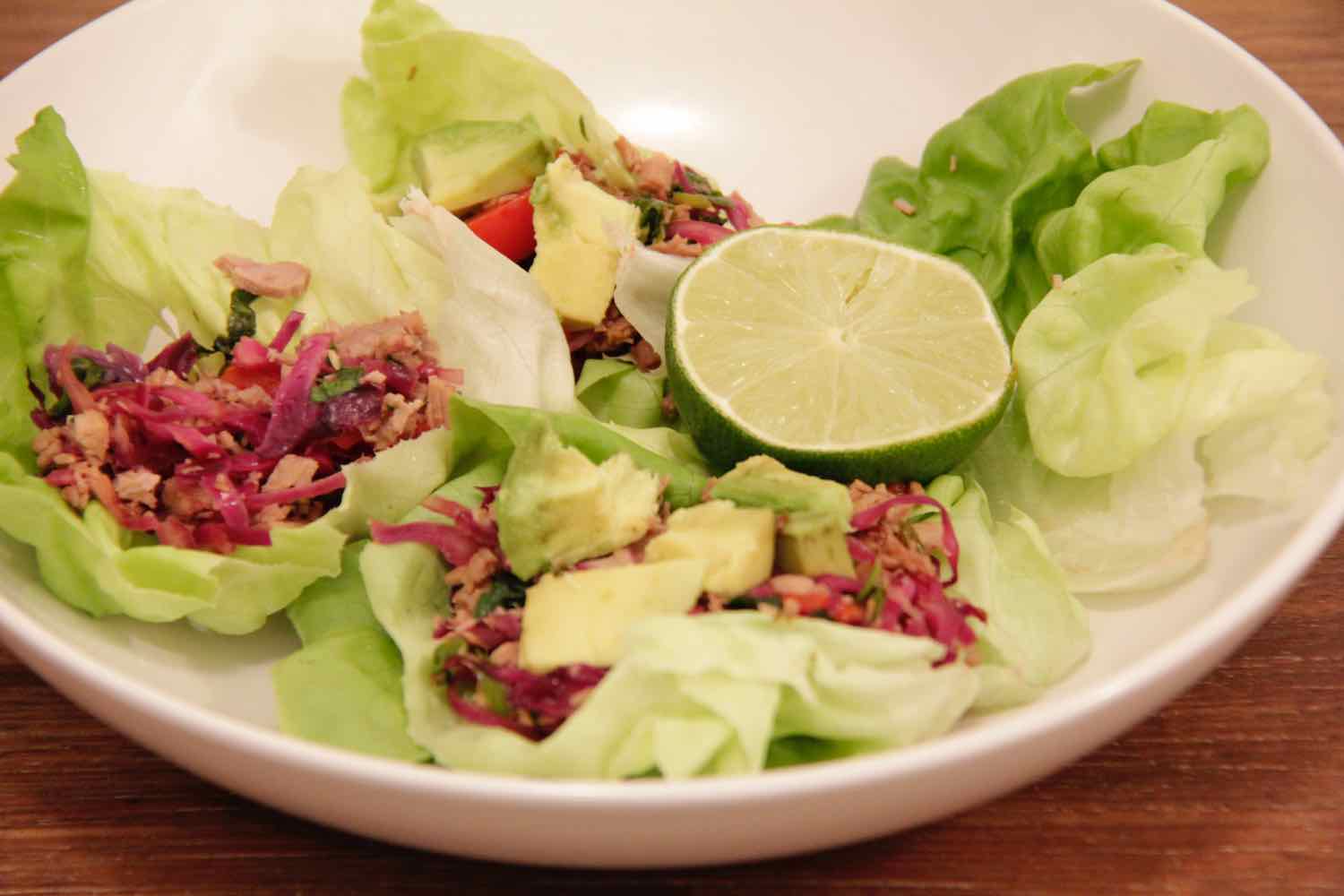 5. Pulled pork lettuce cups - a great dish for summer
The picture above doesn't do justice to how healthy and tasty this meal was. But it is a great example of using what you have on hand to create a fantastic dinner for one. In this I used shredded pork and mixed it with the red cabbage salad I had leftover from a dinner party and lettuce I had leftover from making rice paper rolls to create a fresh and simple summer dinner.
Bonus meal ideas!
More ideas for warm salads
The meals below don't qualify as a standalone ideas as they are all variations of a warm salad. However, despite the fuzzy pictures they were some of my favourite meals last summer.
Also as unappealing as the first picture looks, it shows two of my biggest secrets to making cooking for one quick and painless.
The white sandwich bag contains frozen quinoa (which could be rice or pasta) and the brown sandwich bag shows pulled pork frozen with homemade tomato salsa. With staples such as carbs / grains and meat / proteins, pre-cooked and able to be pulled quickly from the freezer. All you need to do is add salad or vegetable items and it becomes very easy to cook a healthy meal with little effort - and better still, little washing up.
The next meal looks almost identical - same colour combination with the red cabbage dominating and the avocado on top.
However they were quite different.
The bottom meal has the cabbage warmed through and tossed with a balsamic / mustard / brown sugar dressing. The meal above uses the pulled pork combined with home made tomato salsa, heated through, then tossed with red cabbage. So the two meals were quite different. One definitely fresh and summery. The other a bit more comfort-food-y.'
Some final thoughts about using pulled pork to create great dinners for one
One of the things about cooking for one is that you end up with lots of half jars and cans of things, half cut carrots and the like.
Purpose of including before & after pictures
The purpose of including the before and after pictures above is to show that with some motivation and imagination even motley ingredients can turn into a fabulous dinner for one.
Unlike opening a new tin or getting out a whole carrot, zucchini etc - quite often cooking for one means you are left to grab a somewhat sad, half cut vegetables from the crisper - all of which makes makes cooking for one and using up leftovers even less appealing.
Hopefully this post has shown how:
even a motley group of vegetables can be the basis for an amazing dinner
a bit of time cooking and freezing batches of pork, or any protein can really simplify and speed up making dinner for one each night.
Cooking the pork is pretty simple and can be done in either a slow cooker or in a roasting tin covered with a lid or foil in the oven. I've used both pork loin and pork fillet.
Leave a comment if you would like instructions or a specific recipe. (The one I used was torn from a magazine, but I will hunt down an online version if you are interested.)
Useful Links
Vist the Live Strong site for instructions on: